HMS ARK ROYAL AND THE MATERIALS WE HAVE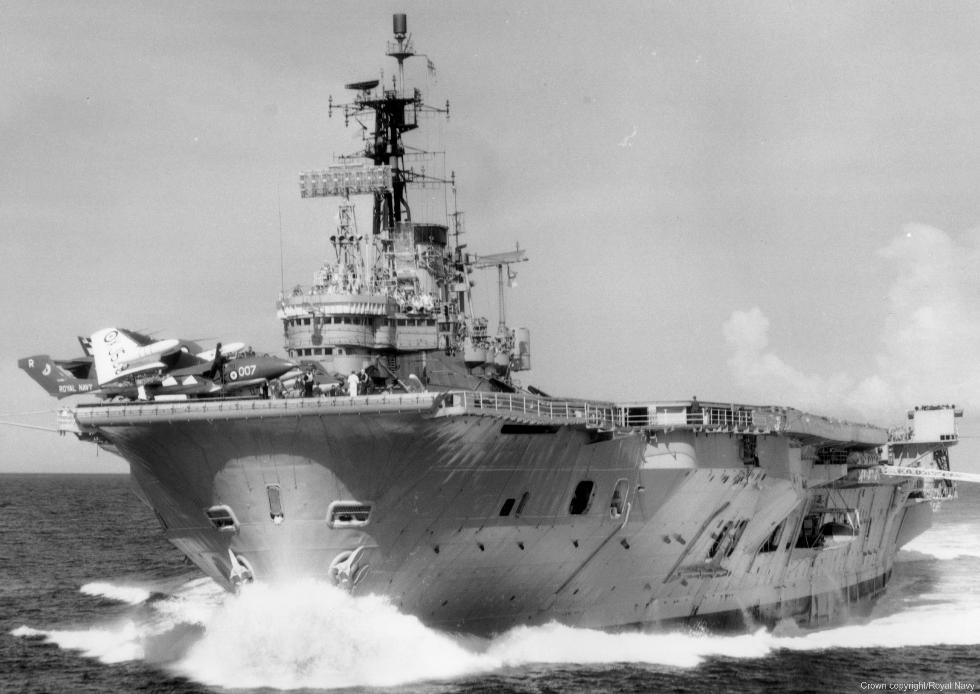 We have teak wood decking sections from the quarter deck that was salvaged when she was decommissioned and dismantled in 1980 at Cairnryan Scotland.
We also have a few other materials, including brass handrails and porthole screws from this, one of the most famous aircraft carriers.
HMS Ark Royal (R09) was an Audacious-class aircraft carrier of the Royal Navy and, when she was decommissioned in 1979, she was the Royal Navy's last remaining conventional catapult and arrest-landing aircraft carrier.
She was the first aircraft carrier to be equipped with the angled flight deck since its commission, although her sister ship, HMS Eagle, was the Royal Navy's first aircraft carrier to be equipped with such a system (after modification in 1954)
The aircraft carrier name HMS Ark Royal has a personal meaning to me, as my late grandfather served on the previous aircraft carrier carrying the name HMS Ark Royal, when she was torpedoed and sank by a U-boat in 1941 (he survived)
A FEW FACTS
Displacement:
36,800 tons (as built)
43,060 tons 53,950 tons full load(1978)
Length:
804 ft (245 m)
Beam:
112 ft (34 m) (as built)
171 ft (52 m)(1978)
Draught:
10 m (33 ft) standard
9.5 m (31 ft) deep
Propulsion:
8 Admiralty 3-drum boilers in 4 boiler rooms
4 sets of Parsons geared turbines, 4 shafts
Power: 152,000 shp (113,000 kW)
Speed:
31.5 knots (58.3 km/h)
Range:
7,000 nautical miles (13,000 km) at 14 knots (26 km/h)
5,000 nautical miles (9,300 km) at 24 knots (44 km/h)
Complement:
2,250 (2,640 inc. air staff)
Sensors and
processing systems:
After 1970:
Type 974 Navigation Radar
2 x Type 965 Long Range Air Search Radar
Type 963 Carrier Controlled Approach Radar
Radar types 986 used in sync with 965,987x2 Fwd and aft hight finding ,993 Medium range all E/F band radars
Armament:
As built:
16 × 4.5 inch (113 mm) guns (8 × 2)
52 × 40 mm Bofors (6 × 6, 2 × 2, 12 × 1)
1969 refit: none
Aircraft carried:
As built: 50
38 after 1967–1970 refit
Old film showing deck landing
Copyright © 2010-2019 Historic Gifts