HANDCRAFTED HISTORIC GIFTS
We specialise in the making of unique gifts and pens

using historic and unusual materials since 2007

.
The materials we use include: Ships & Wrecks, Historic Aircraft, Classic & Famous Cars, Ancient Materials
including Mammoth Tusks and so much more.
Our gifts and pens have been featured on both ITV and BBC Television.
We were filmed making the very first Spitfire propeller pen on STV News.
Also featured was a selection of our other pens made from historic timbers, including:-
SS Politician, Titanic Engine Block, Tiger Moth and HMS Victory
We have also been on BBC Alba a few times and even BBC Radio Scotland discussing our range of unique gifts.
One of our proudest moments, was in July 2012 when we were commissioned by the Princes Trust to make a totally unique one off fountain pen for HRH Prince Charles and a surprised meet with him afterwards where he wanted to discuss our pens and praised our unique approach.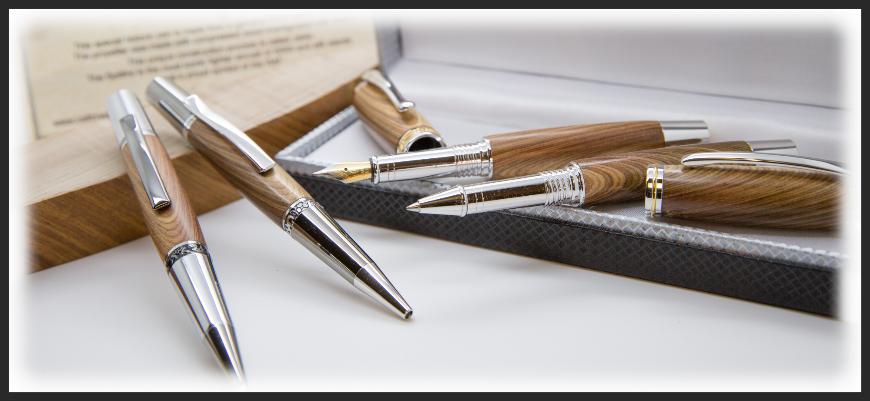 A selection of Spitfire Pens, classic Executive, Gentleman's Rollerball and Statesman Fountain Pen
Each and everyone of our gifts is personally and individually hand-crafted by us in the beautiful Scottish Highlands since 2007 and now from our new premises in the idyllic Scottish Borders.

We pride ourselves on the quality of the materials we use, for example we only use Rhodium and Titanium in our historic pens, its of upmost importance to us that we never compromise our standards with substandard materials.
You can be assured that each and every handcrafted historic gift we make comes with our personal assurance that you will receive a quality, unique, genuine gift to cherish.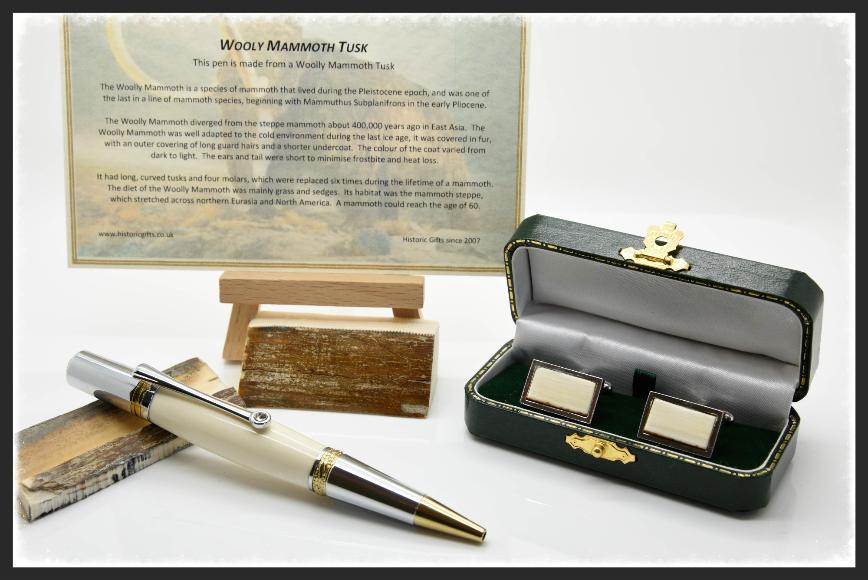 Mammoth Tusk Rhodium Majestic Pen & Rhodium Cufflink's
The vast majority of the materials we use are totally unique to us here at Historic Gifts.
We spend a vast amount of time researching and sourcing new materials from all over the world and travel many a mile in researching and collecting new materials.
We've done special commissions, including making over 100 pens using an extinct Indian dye wood thats been in a wreck at the bottom of the atlantic since 1748 to a one off pen commission from a crashed Hurricane that had been buried for over 50 years for a relative of the pilot.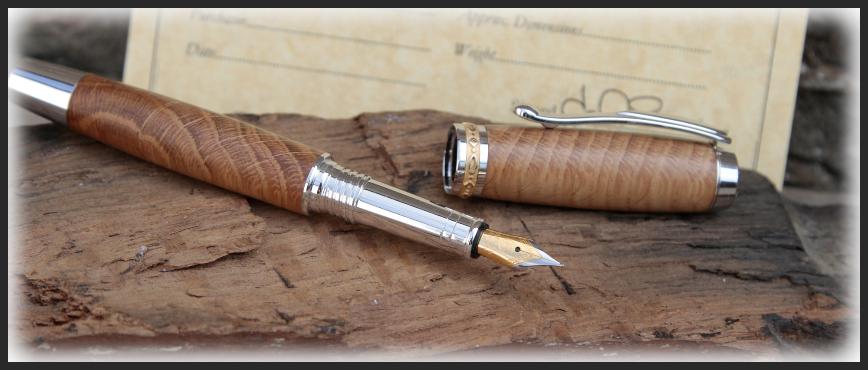 HMS Victory Classic Statesman Fountain pen and the same style of pen that Prince Charles has but different timber
Our love is history and its this love for history that started us out with the original concept of Caithness Pens.
Our aim is to find those forgotten, unwanted, rotten or even broken pieces of history that sit in the loft or left outside to rot and bring them back into a useful and practical gift to cherish.
Its impossible to put into words how it feels to hold and write with, say a pen made from an actual spitfire propeller from WWII or even the unique feeling in knowing the time from a clock made using Oak from the most gallant and historic ship of them all HMS Victory.

Selection of pens made from a 1996 race used Arrows F1 Skid Plank
USING MATERIALS OF YESTERYEAR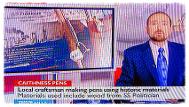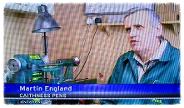 Copyright © 2010-2019 Historic Gifts